Neyers Vineyards About Page
Philosophy

A Commitment To Excellence Influenced by French wine producers
Neyers Vineyards sits in the heart of the Napa Valley but Bruce's experience with Berkeley based French wine importer Kermit Lynch has had an undeniable influence on our wines. Many of the French producers Bruce worked with farm organically, make their wines naturally without use of cultured yeast or laboratory designed malo-lactic starter, and bottle their wines without fining or filtration. We like the results and utilize many of their ideas.
The production of outstanding wine is invariably accompanied by some degree of risk, and with the help of many of our French colleagues, we've learned how to minimize that risk, and make it work to our advantage.
Vineyards
It all starts in the vineyard. Whether it be the Sangiacomo family, the Yamakawa family or the Larson family, we partner with like-minded growers, many for over 30 years. Here's just one example (check out Bruce's blog for many more vineyard stories). Neyers Pinot Noir 'Placida Vineyard' is a wine from grapes grown on the Russian River parcel that Chuy Ordaz planted 15+ years ago. He used 'Heirloom' budwood from the original Joseph Swan vineyard in Forestville. Joe had brought the cuttings for his vineyard directly from France more than 65 years ago. This wine from Chuy's Placida Vineyard in Russian River attractively expresses both old world and California character.
And then there's the fruit from our Ranch in Conn Valley, where we grow our estate Cabernet and Merlot. One common thread across all of these vineyards is the relentless pursuit of sustainable agriculture and the intentional use of grape selections.
All of our grapes are picked by hand, then delivered to the winery in small one-half ton. They are then laboriously hand sorted and inspected once again at the winery.
Winemaking
We have a minimalist, yet tailored approach to winemaking. Two great examples are the differences in our two Chardonnays:
Our Carneros Chardonnay grapes are not crushed, but whole-cluster pressed. The juice is racked directly into barrel, fermented naturally with indigenous wild yeast, and allowed to settle naturally as the wine ages over the next several months. We rely on 25% new oak and all of our cooperage is French oak, sourced from several different forests in France, providing additional complexity. The process is time consuming and expensive, but it produces a level of richness and complexity in the Chardonnay 'Carneros District' wine.
Our 304 Chardonnay modeled from a love of Chablis, this wine came about because of a particularly well-suited vineyard, the Larson Vineyard, that reminded us of the terroir of Chablis. The vineyard is located in the coldest part of the Carneros District where vines are grown in the middle of an old creek bed that had been diverted 50 years ago, leaving behind a dense layer of rocks. It was planted to an heirloom Chardonnay selection that lent itself well to winemaking without the use of oak. The Chablisienne are known for making their Chardonnay in stainless steel, so it was aptly named 'Chardonnay 304' after the steel industry's designation for food-grade stainless steel.
All our wines are crafted with native yeast fermentation and we think the difference shows. Click here for Bruce's perspective on the topic.
Aging
Our 60 gallon barrels are made in France, to our specifications, from wood that is typically air dried for three years. Our wines are aged with as little intervention as possible, and in most years we bottle our wines with neither fining nor filtration, using a state of the art mobile bottling line.
All of our wines are made with an eye for quality, and a deep-seated passion for excellence.
No expense has been spared in our grape growing, winemaking practices, or processing equipment, yet customers repeatedly tell us that our wines represent great value in today's highly competitive wine market.
Influencers

We have learned so much from so many winegrowers and producers. Here are a few who left an indelible mark on us and Neyers wines.
Daniel Brunier
Daniel Brunier from Domaine Vieux Télégraphe Châteauneuf du Pape: Daniel is a fourth generation vigneron in the southern Rhône. Almost since birth, he has been steeped in the region's traditions. His knowledge about the food, the history, the culture, the land, and the broad range of wines is second to no one, and is being passed along to his son and daughter with equal enthusiasm. He taught us to look for and recognize the terroir of vineyards in California.
Jean-Marc Roulot
Jean-Marc Roulot from Domaine Roulot (formerly Domaine Guy Roulot) Meursault: Jean-Marc combines his love of theater with a graceful touch in the cellar to produce wines of character, strength, and elegance. He enjoys a position of great respect among his neighbors, as well as with the international wine trade, and he has long promoted the importance of natural grape flavors in California Chardonnay, in preference to the artificial.
Lulu Peyraud
Lulu Peyraud from Domaine Tempier Bandol: The late Lulu Peyraud saw it all, from beginning with her husband Lucien what was originally a humble appellation in the south of France, then watching it evolve into one of the most important fine winegrowing regions in the world. Through those years she raised seven children, became a legendary champion of Provençal food and culture, and lived a life that could be turned into a movie. Lulu lived to be 103 years old, and never stopped promoting the idea of wine's importance at the table.
Maxime Magnon
Maxime Magnon from Domaine Maxime Magnon in Corbières: Maxime struggled in his earliest days in the wine industry, but he kept his his eye on making wine of the highest quality. His success is best described by the esteemed position his wines enjoy within the demanding Paris restaurant industry, where he is a bit of a folk hero. Humility coupled with an enlightened attitude towards Carignan have been the cornerstones of Maxime's career.
Michel Colin
Michel Colin from Domaine Colin-Deléger Chassagne-Montrachet: Michel and his wife Bernadette have been key players in Burgundy for most of their lives. They stand for all that is great about Burgundy and its traditions. They have patiently established themselves as important voices in this region, and have carefully prepared their sons to bring this property into the next generation. At Domaine Colin, there has never been an overlooked detail.
Auguste, Pierre-Marie and Olivier Clape
Auguste, Pierre-Marie and Olivier Clape from Domaine Clape Cornas: Auguste and his son Pierre-Marie almost seem to be made from the granite that forms the steep hills surrounding their home in Cornas. Their vision over several decades developed one of the most complex wines of the world. The torch has now been passed to the 3rd generation, and Olivier brings with him the patience and fortitude of prior generations, along with a sophisticated worldliness.
André Ostertag
André Ostertag from Domaine Ostertag Alsace: André brought together elements of art, science, and agriculture to create a property respecting traditional values, while attractive to a new generation of wine lovers. He raised the quality standards now accepted by a generation of producers, and is respected throughout the world for his comfort with various grape varieties.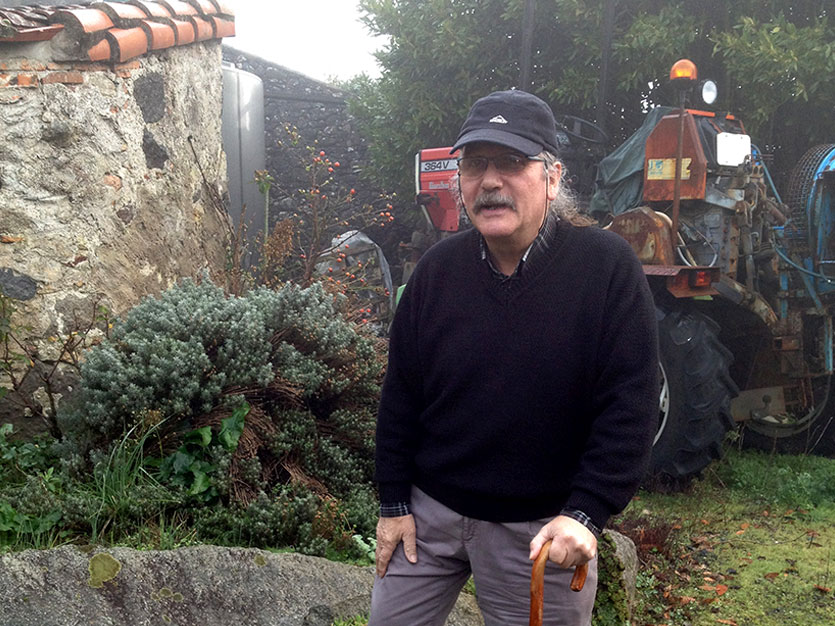 Michel Brégeon
Michel Brégeon from Domaine André Brégeon in Muscadet: Michel improved everything he touched, from grape growing to winemaking. At the same time, he educated the wine trade to ensure that his wines were effectively distributed to the consumers that had supported him. The odds against him were enormous, and his success is inspirational.
Aubert deVillaine
Aubert deVillaine Domaine A&P deVillaine Côte Chalonnaise Burgundy: Aubert is thought of as Mister Burgundy, but he along with his American-born wife Pamela invented a sub-region of Burgundy that had been misunderstood and largely ignored for generations. It now enjoys international respect by both colleagues and legions of adoring fans. They also have the satisfaction that must come from sticking with an unpopular idea that eventually becomes mainstream.